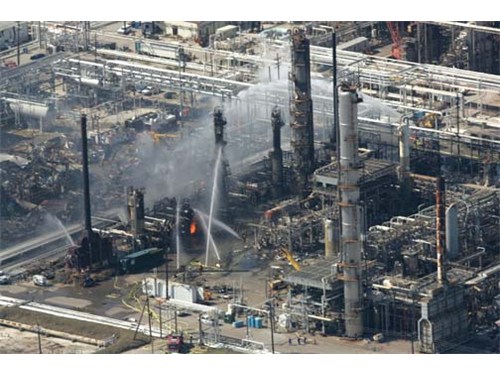 2005 BP Texas City explosion (CSB)
"As the chairperson of the U.S. federal agency that investigates chemical disasters, I am concerned for all workers," says former CSB Chair Rafael Moure-Eraso in an
op-ed article he authored for Houston Chronicle
. "But as an immigrant from Colombia, where I first studied chemical engineering, I have a heightened concern for Latinos who work in and around chemical facilities across Texas and in the U.S. Their fatality and injury rates are disproportionately high."
The article shares a personal story of Katherine Rodriguez, whose father, Ray Gonzalez, died in a 2004 incident at a BP refinery in Texas City after a pipe burst and sprayed him with 500-degree water. This incident preceded the
March 23, 2005, explosion at the same facility
that killed 15 and injured hundreds. Moure-Eraso commends OSHA for its Latino outreach efforts, but says that more must be done to protect this vulnerable population, which is overrepresented in jobs with highly hazardous conditions.